Finding the Source
One Man's Quest for Healing in West Africa
---
You might also like: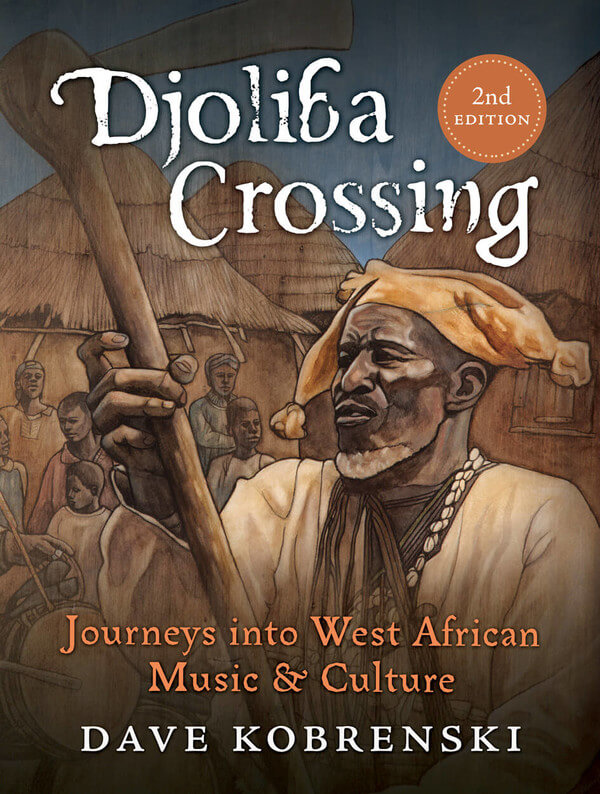 Journeys into West African Music and Culture
Discover the music and culture of West Africa in this beautifully illustrated account of an artist's adventures in the Niger River valley.
When artist and musician Dave Kobrenski first set out for Guinea, West Africa, it was simply to learn the djembé music of the Malinké people. What he found instead was a land of ancient traditions where spirits mingle with the living and the souls of ancestors reside in sacred groves of trees. He soon learns that intense poverty and rampant political corruption are a mixture with explosive potential in Conakry's inner-city. When bloody clashes erupt, no traveler is safe. For Kobrenski, the result was a two decade musical adventure that would test his resolve and draw him into a quest of cultural understanding.
---
Memoir/Spirituality
Somewhere in Africa, the blacksmith's widow is rumored to still be alive. And her dark magic is Dave's last hope of ending a twenty-year curse. If only he can find her.
Deep in the heart of West Africa, there is a power as old as the Earth. This is a land where ancestors walk among the living and impish spirits dwell in the forest. Occult knowledge is guarded by secret societies, and blacksmith artists carve sacred masks that invoke deities. Here, art is magic…and it is not for the uninitiated.
An ocean away, Dave is a struggling artist who longs for adventure in distant places. When fate brings him to West Africa, his dream becomes a reality, and he's drawn into a world of ritual drumming, ancient traditions, and vodoun magic. But the dream soon turns into a nightmare.
The mysterious illness comes on violently. As Dave convulses with pain, the villagers call it a curse, suspecting sorcery or ancestor spirits. At first, Dave's not so sure. Back in America, his doctors lead him down a dangerous road of pharmaceuticals and opioid painkillers, but the condition only worsens. As the years go by, Dave's suspicions deepen, and he must decide. Was it really a curse that beset him all those years ago?
Facing a life of disability and heartbreak, Dave's final desperate quest for healing brings him back to West Africa to answer that question. To find the source, he must question everything he thinks he knows, and put his trust in the words of a shaman and in spiritual forces he's not sure exist. But in the end, it's his own demons he must confront, before the curse finally destroys him.
A touching and profound real-life adventure story that spans continents—and worlds.
---
Reviews
A powerful healing adventure
Finding the Source is a powerful healing adventure that takes many well-positioned opportunities to shed light on western medicine's short-sided perspectives on health and wellness. Through the author's deep reverence for Africa and her traditions we, the reader, begin to understand new wisdom as it relates to rest, healing and the mind, body and spirit connection. I loved this book and was all in to join him on this wild, risky and beautiful journey to find the source of his pain and the source of his healing. The book is a beautiful reminder that often the answers we seek have been inside of us the whole time.
Amy Grill • 1 week, 1 day ago
A page turner! I could not put it down!
A real life adventure story at it's best! I could not put this one down! Vivid descriptions carried me along for the journey. I feel I've been to Africa and back with Dave and appreciate the lessons on culture, history, world issues, health and healing he weaves with the magic of his words. A must read!
Meg Simone • 1 day, 17 hours ago
A rich story that needs to be told
I received an advance review copy, and I read it through in one night, mostly in tears. This is a rich tale that weaves together Western medicine, traditional healing, shamanism, ancient cultures and modern science, along with a good dose of plain American grit. It doesn't hurt that Dave's a skilled writer, and I can't imagine what the process of writing it must have been like for him, but he held me through every page.
Doug S. • 4 days, 16 hours ago
The story, at once, offers the realization and serves as a reminder that the fulcrum of humanity is courage. An adventure in search of wisdom sans expiration gives way to the great depth of the need to heal. Truly inspiring!
Michael • 1 week, 1 day ago
A Beautiful & Compelling Healing Journey
From the very first page, Finding the Source by Dave Kobrenski pulls the reader into a unique and beautifully written narrative about healing the body and soul. Dave's lyrical prose weaves an unexpected story of how Dave ended up living in Africa, falling in love with the people he met there, and uncovering the source of the pain that ruled his reality. The impact of living with unrelenting pain is not an easily-shared concept, but Dave manages to powerfully convey just that. I felt as if I was following Dave as he undertook these physical, emotional and spiritual journeys - he shines a light on the highs and lows of his travels and you can see his growth as his story progresses. This is a beautiful book that needs to be shared widely!
Jess Bacon • 1 week, 1 day ago
A beautiful glimpse into what's important in life.
Through this exciting adventure, we are given a beautiful glimpse into what's important in life. This story provides a wake-up call from the illusion of what we tend to describe as, "advanced societies," and reminds us how to be humble, grateful, and ultimately, happy. Finding the Source is a must-read for anyone interested in the teachings of traditional cultures or for anyone who feels they are stuck in a rut. Dave's journey is full of excitement, struggle, and happiness that will bring hope to anyone who reads it.
Mike • 1 week, 2 days ago
Dave's very real journey - FINDING THE SOURCE
Having known Dave since he was in college, I got to read the book early. That also means I knew of the trials he of which he writes , the travels, the illness, the people, the personal cost to this splendid tale. His talents fine tune. The best of the story, which I loved, is how it all comes together, and we, the readers benefit, and learn.
Judith R. Birch • 1 week, 3 days ago
---
---
Book Details
385
Artemisia Books
April 21, 2022
978-0-9826689-8-6
About the Author
---